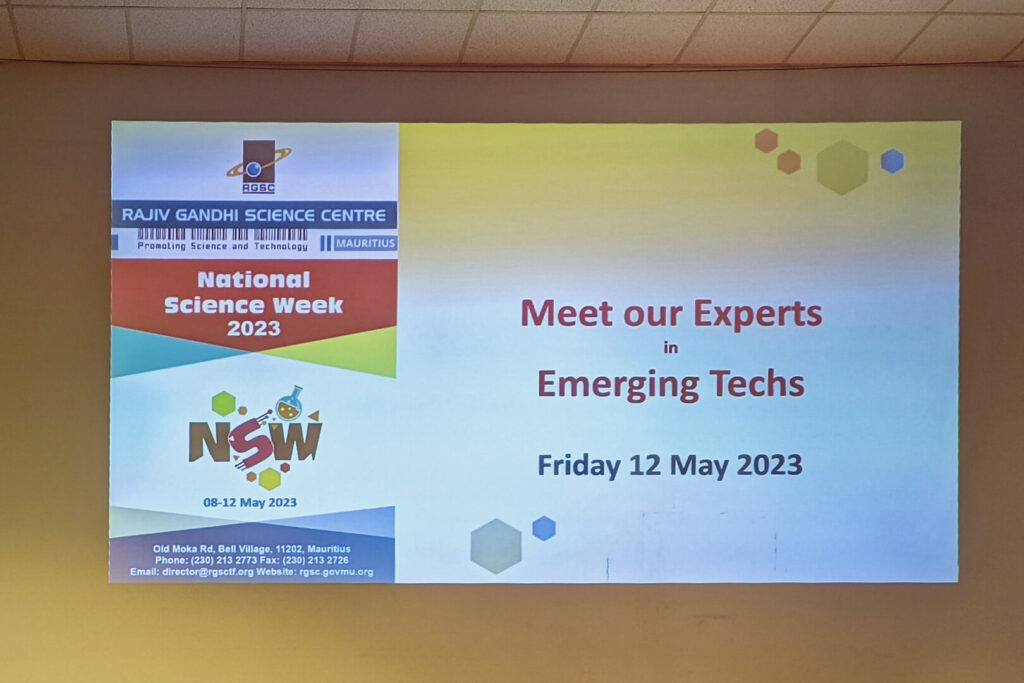 Today, I gave a talk on "How emerging technologies can contribute to create a Smart Mauritius (and smart jobs)" on the last day of the National Science Week 2023 at the Rajiv Gandhi Science Centre. In the audience were high-school (college), their teachers as well as some university students. It was a great experience for me and (I hope) for the audience too.
I spent 30 minutes explaining how Mauritius aspires to become a green, inclusive and high-income country by 2030 and, for this to happen, we need to fully understand and embrace emerging technologies. A priority is to have a critical mass of trained people in IoT (Internet of Things), Databases and Blockchains, Big Data and Artificial Intelligence. This can be achieved both through our education system but, on a shorter term, by attracting foreigners and members of the Mauritian diaspora. Of course, we also need to put in place proper knowledge transfer mechanisms for our young people. I wanted to convey that "If we think big, we'll achieve big" and also that young productive and innovative people are needed for the country to progress.
I really enjoyed the half-day workshop and the other presenters too (Nishtee Gopee, Dr Kaleem Usmani and Dr Suraj Juddoo).
A big thank you to those who have worked hard to make the National Science Week 2023 a success at the Rajiv Gandhi Science Centre, starting with Mrs Ellora Mishra-Dhunnoo, Chairperson, Dr Aman Maulloo, Director, Hemraj Ramsurrun, Manager, Ashley Purhooa, Senior Resource Officer, and all the other staff members. Already looking forward to next year.