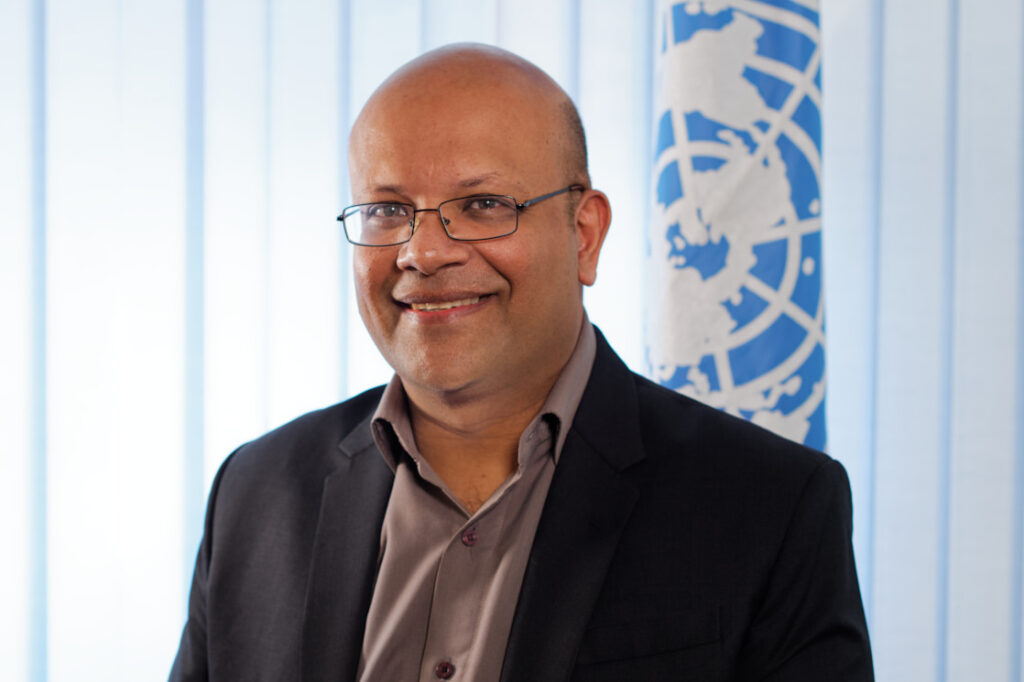 This Friday 28th of April is my last day at UNDP Mauritius and Seychelles.
After two years, I am leaving the country office where I have very much enjoyed my time as Head of Experimentation in the Accelerator Lab working with two wonderful friends and colleagues: Melany Poorun-Sooprayen and Ayooshee Dookhee. I am thankful for everything we have done together.
During the two years, I have worked on a number of experiments, with my colleagues and implementing partners, which are now completed:
Using dried palm leaves to curb soil erosion in Seychelles with TRASS and SPGA,
A Financial Literacy experiment to test the use of video content in Kreol for women entrepreneurs in MSMEs in Mauritius and Rodrigues with UoM and UTM,
Recruiting and deploying UN Volunteers in Mauritius, Rodrigues and Seychelles for data Collection,
The creation of a GRassroot Innovation Database (GRID).
I also participated in two missions abroad:
17-20 February 2021: A mission to Rodrigues where we had working sessions with the Chairperson and Clerk of the Rodrigues Regional Assembly, the Tourism Commission, the Family Commission, MRIC, SME Mauritius and several entrepreneurs,
28 August – 3 September 2022: An Accelerator Lab Retreat at Addis-Ababa in Ethiopia where I had the opportunity to engage with my Acc Lab colleagues from all over the African continent and from New York headquarters to reflect on ways to make UNDP more effective by adding a Research & Development component in each country office.
I also had the opportunity to be in major events which were initiated by the Accelerator Lab:
21 April 2021: Official launch of the UNDP Mauritius and Seychelles Accelerator Lab,
17 June 2021: A first Collective Intelligence exercise to understand the impact of COVID-19 on the lives of small business owners, especially those operating in the tourism sector,
16 December 2021: A dialogue on COVID-19 and Tourism and Mapping the Way Forward organized in collaboration with the Ministry of Tourism,
24 February 2022 A Youth in Tourism Dialogue in Mauritius with young people being trained for the jobs in the tourism sector; we wanted to know how they felt about the future,
22 April 2022: A similar Youth in Tourism Dialogue in Seychelles,
29 November 2022: The co-design of profiles, with actors in the Agri Business sector, as a means to incite more young people to contribute towards food security,
13-14 December 2022: The Acc Lab organized a workshop with the National Women Entrepreneur Council on Agri Business. This workshop was attended by more than 100 women entrepreneurs from all over the country.
From 2-13 December 2022, Ahunna Eziakonwa, the UNDP Regional Director for the Regional Bureau for Africa was in Mauritius on official mission. She launched, inter alia, the SDG Investor Map and engaged with Mauritian women entrepreneurs during an interactive session on the African Continental Free Trade Area (AfCFTA). During a staff lunch, Ahunna shared her life (and work) philosophy with us and it was enlightening.
Since joining UNDP, I had many meetings with local and regional partners such as the Australian High Commissioner (on renewable energy), the Ministry of Information Technology, Communication and Innovation, the Ministry of Public Service, Administrative and Institutional Reforms, the Ministry of Tourism, the Mauritius Research and Innovation Council (with whom we signed an MoU on 7 February 2022), the Association of Hoteliers and Restaurants in Mauritius (AHRIM), Business Mauritius, SME Mauritius, the National Institute of Science Technology and Innovation (NISTI) of Seychelles, the Seychelles' Conservation and Climate Adaptation Trust (SeyCCAT) and the Japan International Cooperation Agency (JICA).
Being in an international organization also gave me the opportunity to engage with colleagues from all over the world. In addition to our weekly Acc Lab call (with hundreds of participants from Algeria to Zimbabwe), we had one-on-one meetings with Acc Lab colleagues from countries as diverse as Barbados, Cape Verde, Kenya, Namibia and Rwanda. I liked attending the online RBA Townhall Meetings where Ahunna Eziakonwa was always inspiring as well as the Townhall Meetings with the Administrator where Achim Steiner was always extremely sharp and strategic in his approach.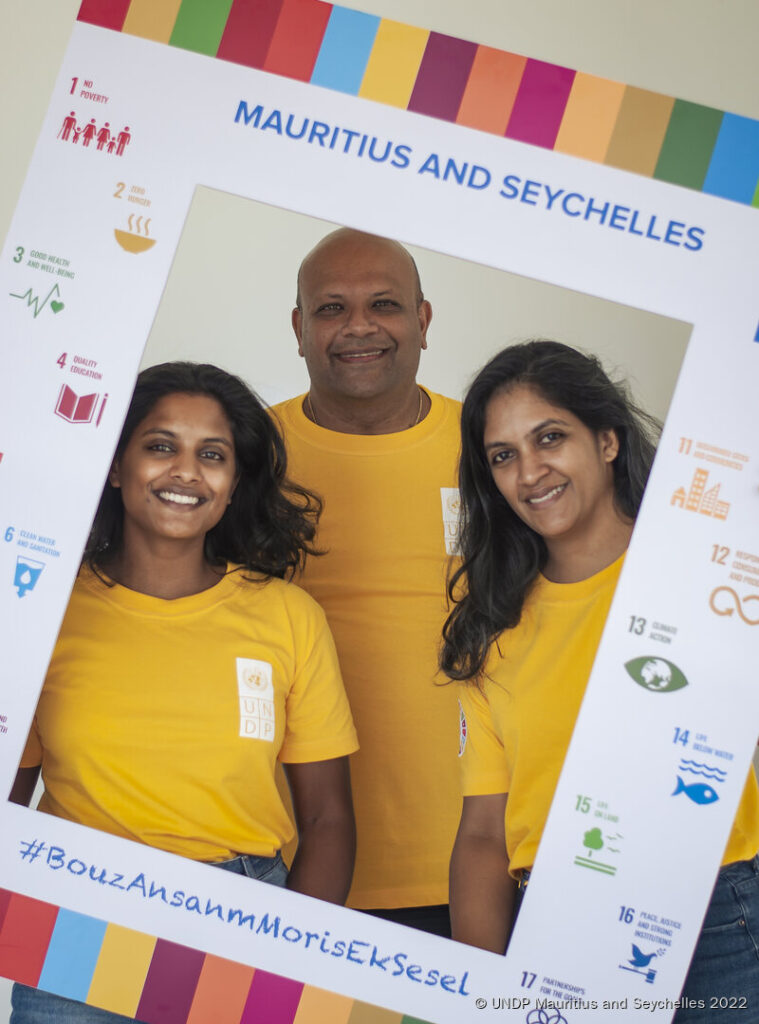 I also extensively benefited from online talks with very interesting people from international institutions such as the Massachusetts Institute of Technology and the Digital Public Goods Alliance, not to mention my UNDP colleagues from the Digital Office, the SDG Integration Group and UNDP Futures.
As a UN and UNDP staff, I also had to follow training courses where I learned a lot. These include BSAFE Security Awareness Training, Fraud & Corruption Awareness & Prevention, Ethics & Integrity at UNDP, Prevention of Harassment, Sexual Harassment & Abuse of Authority, Prevention of Sexual Exploitation & Abuse of the Local Population, Procurement Level 1 Certification, Greening the Blue, The Gender Journey, the UNDP Legal Framework and the UN Human Rights & Responsibilities.
During the two years, I was also the Digital Advocate for the country office with the responsibility to disseminate the UNDP Digital Strategy to my UNDP colleagues as well as our Mauritius and Seychelles partners. I had excellent interactions with colleagues from the Digital Office at UNDP headquarters.
I also made presentations in a number of high-level conferences in Mauritius:
4 September 2021: "Artificial Intelligence Strategy for Mauritius" at the Université des Mascareignes.
12 October 2021: Presentation on the UNDP Offer during a workshop on the Sandbox Framework organized by the Ministry of Public Service and Institutional Reforms.
21 October 2021: Moderation of a high-level panel during the UoM Innovation Week organized by the Mauritius Research and Innovation Council.
27 April 2022: TED-style talk on the UNDP Offer during the "Assises de la Recherche et de l'Innovation" by the Mauritius Research and Innovation Council.
7 November 2022: Keynote speech on "SDGs and Innovation for the Educational Technologies sector in Mauritius" during the UoM Research Week.
23 November 2022: "A Brief History of Programming" at the Developer Conference 2022.
30 November 2022: "Achieving our 2030 Development Targets" at the "Road to Net Zero Conference" at the University of Technology.
7 December 2022: "Robotique et IA à Maurice: Historique, État des lieux et Challenges" at the Université des Mascareignes.
3 March 2023: Interview on ChatGPT during the by MBC Journal Télévisé of 19:30. I explained how ChatGPT works and what Mauritius needs to do to better leverage Artificial Intelligence and Machine Learning.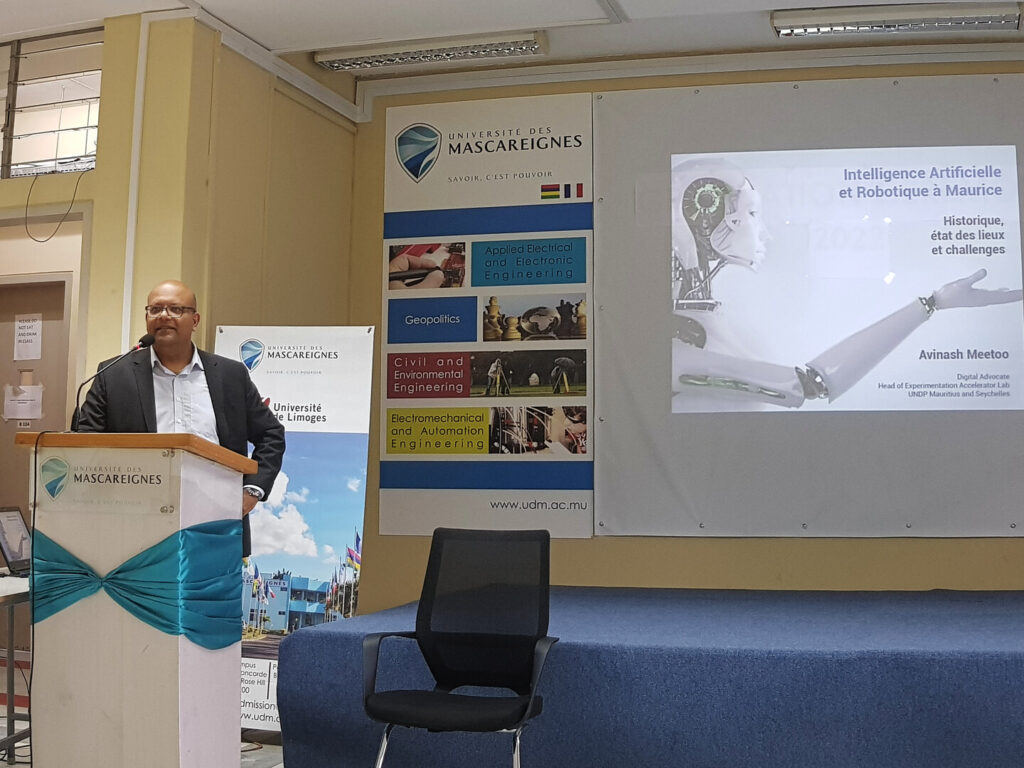 After two years, it is time for me to leave in order to explore other avenues.
I am an independent thinker again. I am my own boss and I can dictate my own agenda. I am very much interested with the intersection between technology, innovation and policy-making to foster a healthier, wealthier, greener and more inclusive society.
As a technologist, an innovator and an entrepreneur, I am taking a few months sabbatical to pause and reflect on the future.
Thank you everyone, keep it up and see you.