From September to December 2022, UNDP Mauritius and Seychelles partnered with Terrestrial Restoration Action Society Seychelles (TRASS) in collaboration with the Seychelles Parks and Gardens Authority (SPGA) to test whether dried palm leaves could be used to curb the effects of soil erosion in Seychelles. The experiment, which started in September 2022, successfully concluded in December last year. From the results collected during rain showers, it was found that barriers made of dried palm leaves are effective in preventing soil erosion. Following these positive results, it is now desirable to test the effectiveness of these barries in other islands. Dr Victorin Laboudallon, Founder of TRASS, and Dr Elvina Henriette, Programme Coordinator of TRASS, are keen to explore further…
Dr Victorin Laboudallon, the Founder of Terrestrial Restoration Action Society of Seychelles (TRASS), was born in 1954 in Mahé, Seychelles. When he was 12 years old, a forest fire started in the region he lived and he joined the grown ups to take it out. In the excitement, Victorin, still a young boy, learnt the skills to take out a bush fire but, very importantly, on the necessity to protect nature. He was greatly, inspired by his grandmother, who worked in forestry. She taught him the names of all the plants of Seychelles in Creole. The little boy became more and more interested in environmental matters. During these early years, he regularly accompanied his mother to work on distant islands such as Providence and Poivre. Today, at 68 years old, Dr Victorin Laboudallon is one of the few people who have set foot on all of the 115 islands of Republic of Seychelles.
At the age of 13, Victorin Laboudallon undertook a journey with his mother to Diego Garcia, a distant island which belongs to Mauritius. After 15 days of sailing, they arrived and Victorin started working as a labourer there. He would stay seven months before returning to Mahé. At the age of 17, young Victorin sailed to Diego Garcia again. There, he helped in removing invasive species of plants and he harvested coconuts. Little by little, his passion for preserving the environment grew. At the beginning, life on Diego Garcia felt like paradise with everything in abundance, fruits, crops, fish, lobsters, in a beautiful environment. Unfortunately, after 21 months, a naval military base was established on Diego Garcia and whole sections of the forest and healthy coral reefs were destroyed. Victorin, still an adolescent, decided to leave Diego Garcia with sadness and regret.
He returned to Seychelles and started working as an apprentice marine park ranger. In 1981, he arrived in Praslin, the second largest island of Seychelles, as a conservation ranger. He decided to settle there, married and raised a family. He was also posted as a warden on Aldabra to do research and provide logistics. In 1996, he was appointed by the President of Seychelles as a board member of the Seychelles Island Foundation where he still serves.
Since then, Dr Victorin Laboudallon, has had the opportunity to attend training in the conservation field including ornithological studies at Cornel University in USA. He has been recognised with an International Birdlife Certificate in 1997, the Danielle de Saint-Jorre's Environmental Award in 2002, the Seychelles' Outstanding Award for Environmental Excellence in 2004 and the Commonwealth Award in 2019. He published several books on the flora of Seychelles. He is happy that a newly discovered plant in Seychelles, the Pti Baton Monsennyer, now has as scientific name, Ptisana Laboudalloniana.
Ten years ago, Dr Victorin Laboudallon, founded Terrestrial Restoration Action Society of Seychelles (TRASS) as an NGO to help in rehabilitating the degraded forests of Seychelles to make the islands greener.
Today, the UNDP Accelerator Lab is happy to have created excellent working relationships with Dr Victorin Laboudallon but also with people who have subsequently joined Terrestrial Restoration Action Society of Seychelles, most notably Dr Elvina Henriette, the Programme Coordinator.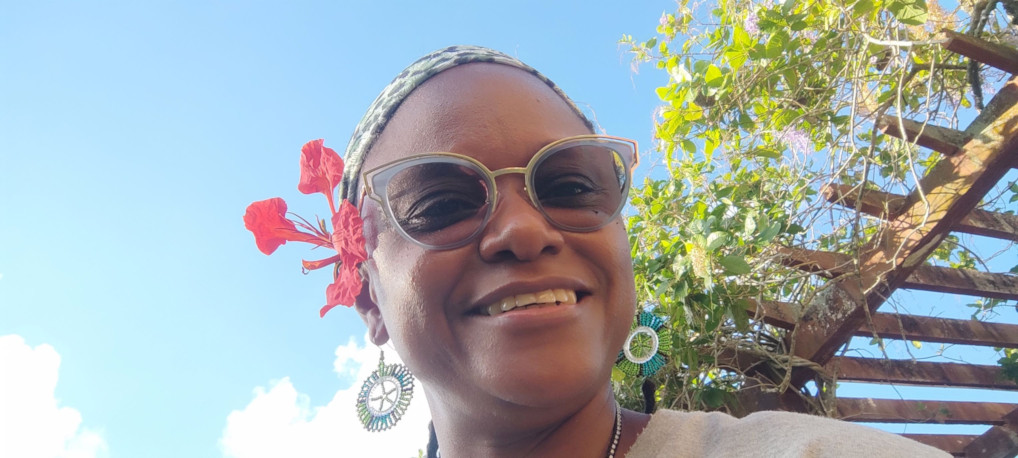 Dr Elvina Henriette is a conservation biologist with a passion for nature. Born in Seychelles, Elvina has a BSc degree from the University of East Anglia in the UK and a Masters degree from the Université de la Réunion (France). She obtained her PhD from a well-known Parisian ecological institution, the Muséum National d'Histoire Naturelle, in 2011. She specialised in the conservation of species and the restoration and monitoring of populations at the Institut d'Écologie et de Gestion de la Biodiversité. She coordinated the development of the Environmental Science BSc degree at the University of Seychelles.
During many years, Dr Elvina Henriette was a conservation biologist and practitioner with the Seychelles Ministry of Environment. She then became an independent consultant and has worked on some of the private islands of Seychelles, the Seychelles National History Museum and local NGOs. She has worked with the World Conservation Monitoring Centre in the UK and is now a member of the Reintroduction Specialist Group and a collaborator of the Invasive Species Specialist Group of the Species Survival Commission of the International Union for Conservation of Nature (IUCN).
She has written a book on the management of alien invasive species and has authored or co-authored scientific publications, articles and technical reports on wildlife in general.
Her main interest is research and the conservation of biodiversity of tropical ecosystems with the aim of addressing biodiversity loss. She is also interested in conservation education, to communicate about science to citizens, young and old, irrespective of gender, and make them aware of environmental issues and to better appreciate the local environment. Apart from her scientific and outreach activities, Elvina also engages in photography and filming, hiking, cycling, gardening and recreational fishing.
The experimental results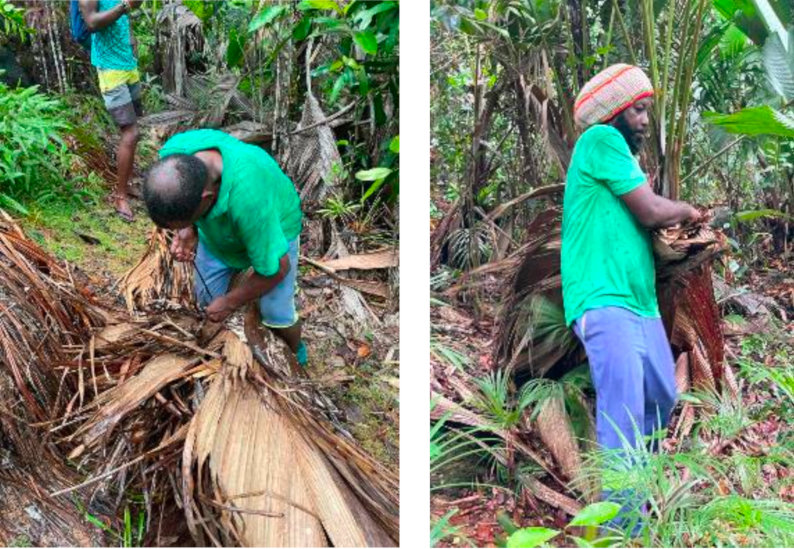 Soil erosion is prevalent on Praslin Island in Seychelles. This is mainly due to the terrain, which consists of steep slopes, but also because of the heavy rains which fall during the summer months. The UNDP Accelerator Lab contacted Dr Victorin Laboudallon and Dr Elvina Henriette to help in evaluating whether barriers made of dried palm leaves, which are easy to obtain on Praslin, could be used to either control or prevent soil erosion. Both were enthusiastic to perform the experiment and, through Mr Allen Cédras, the CEO of the Seychelles Parks and Gardens Authority (SPGA), suitable plots of land were identified at Pasquière and Pointe Chevalier.
About 500 dried palm leaves were collected in September at the National Park of Fond Boffay. In addition, a total of 450 wooden poles was collected from a private land, with the permission of the owner, at Pasquière.
During the months of September to November, several microplots were setup by the TRASS team. In addition to using dried palm leaves barriers and using no barriers at all (to act as control), some microplots also had either bamboo or cocoplum barriers to test the effectiveness of different materials. This was not part of the initial experiment but was a useful extension. More details on the setting up of the plots can be read in our previous blog post.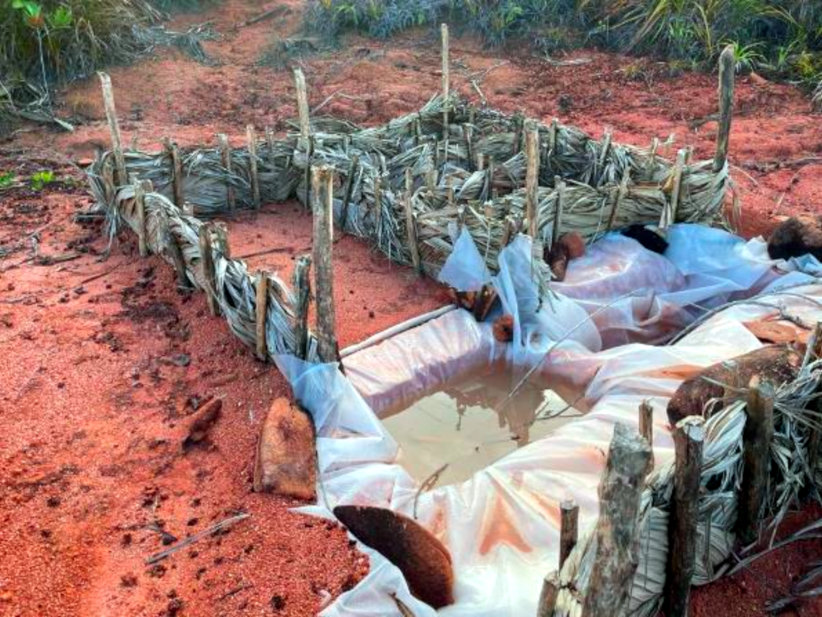 Unfortunately, it did not rain as usual in Seychelles in December and, consequently, the team had to rely on passing showers that allowed for the collection of fewer samples than planned. Fortunately, the number of samples collected were sufficient to make statistically significant observations. The results obtained were:
| | | | | |
| --- | --- | --- | --- | --- |
| Location | Steepness | Material used | No barrier (grammes) | With barrier (grammes) |
| Pointe Chevalier | Gentle | Dried palm leaves | 21.64 | 2.40 |
| Pointe Chevalier | Gentle | Dried palm leaves | 25.08 | 1.49 |
| Pointe Chevalier | Gentle | Bamboo | 20.53 | 2.04 |
| Pointe Chevalier | Gentle | Bamboo | 20.84 | 1.94 |
| Pointe Chevalier | Gentle | Cocoplum | 10.50 | 2.02 |
| Pointe Chevalier | Gentle | Cocoplum | 10.20 | 2.00 |
| Pasquière | Steep | Dried palm leaves | 36.75 | 2.02 |
| Pasquière | Steep | Dried palm leaves | 20.00 | 0.00 |
| Pasquière | Steep | Dried palm leaves | 30.00 | 2.00 |
| Pasquière | Steep | Dried palm leaves | 17.95 | 0.00 |
The table shows two different locations having different steepness. The "No barrier" column is the amount of soil eroded, collected and weighed in a microplot with no barriers used. The "With barrier" column is, of course, what is collected when barriers are used. In all the plots, there was a marked decrease in soil collected (and, hence, eroded) where barriers were used.
Although different materials were used for construction of the barriers (dried palm leaves, bamboo and cocoplum), they all are relatively effective in providing protection against soil erosion. Dried palm leaves consistently showed positive results. Of course, another observation is that there is generally more erosion on the steep slopes of Pasquière than at Pointe Chevalier and this is to be expected.
Next steps
Even though the experiment has now ended, the plots are still being monitored by TRASS and further results will become available after the rainy season which is from January to March. As the results show promise, it is interesting to perform the same experiment in other locations, most notably Mauritius and Rodrigues. Different kinds of leaves could be used depending on availability. This will be done in collaboration with TRASS as they have the required expertise as well as experience in running such experiments.
Another interesting opportunity is for further South-South exchanges in the conservation field between the islands of the Indian Ocean. Dr Victorin Laboudallon and Dr Elvina Henriette could liaise with their counterparts of Mauritius and Rodrigues and, together with UNDP, identify practical solutions for some of the problems arising from climate change. This could be in the form of a workshop where researchers of Seychelles, Mauritius and Rodrigues would work together towards a common good.
As a final note, allow me to mention that this experiment was run by the UNDP Acc Lab team (consisting of Avinash Meetoo, Melany Poorun-Sooprayen and Ayooshee Dookhee), in partnership with TRASS and SPGA without having ever physically met! We were fortunate to have our ex-National UN Community Volunteer, Ms Bernadette Dogley, in Seychelles but all meetings and coordination were done through Zoom. This was not optimal but, thanks to the kindness and enthusiasm of everyone involved, everything went smoothly.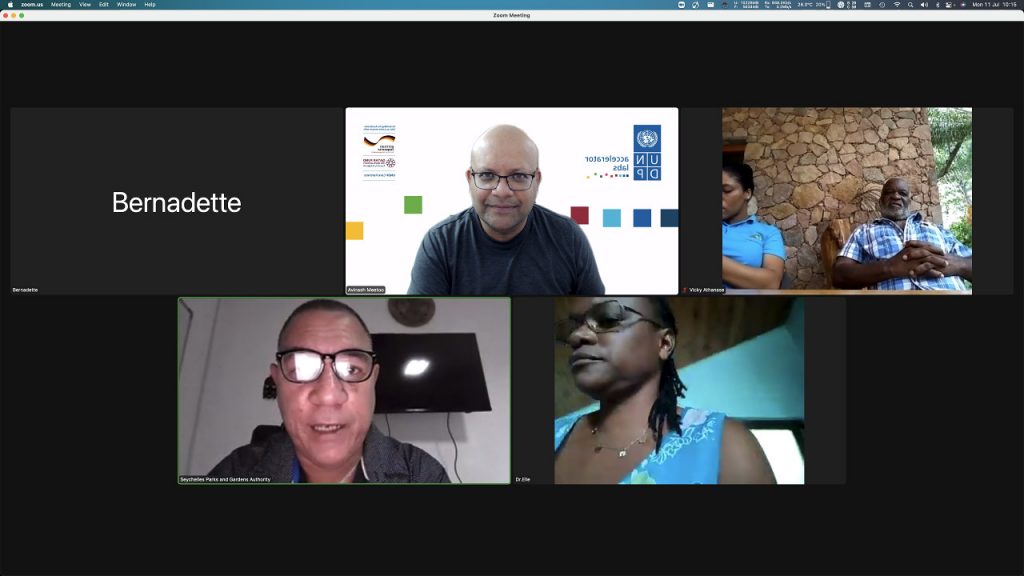 This blog was written with the contributions of Dr Elvina Henriette, Programme Coordinator, (TRASS); Mrs Vicky Athanase, Project Manager, (TRASS); Mrs Jeanna Stravens, Research and Monitoring Officer, (TRASS); Dr Victorin Laboudallon, Founder of Terrestrial Restoration Action Society Seychelles, (TRASS), and Mr. Allen Cedras, Chief Executive Officer at the Seychelles Parks and Gardens Authority (SPGA).