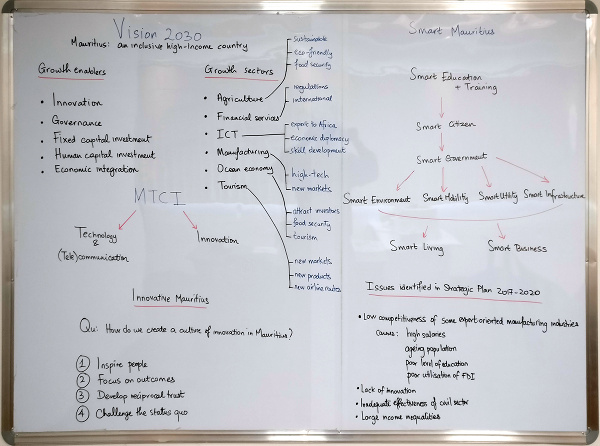 Since the beginning of June, I am an Adviser at the Ministry of Technology, Communication and Innovation. Those who know me well know that I am not attached to any political party and I like to think that I am now an Adviser because of my expertise, my experience and my easy way of dealing with people. The reason why I have accepted this 1-year contract (and put Knowledge Seven on hold) is precisely because I want to contribute more to the development of Mauritius (however modest be the contribution) instead of always complaining on the sidelines. "La critique est aisée, l'art est difficile".
In my contract, it is stipulated that I should contribute to "promote a culture of innovation in the country" and "assist in the identification of strategic growth areas […] and innovative projects" (among other tasks) and I find these two things particularly cool and interesting.
So, for the past few weeks, I have been working hard (harder than at Knowledge Seven, that's for sure!) to understand where Mauritius is, where the Government wants the country to be in 2020, the challenges we are facing and the solutions we need to work on. This is what I found and summarised on the whiteboard found in my office (I can't function without a whiteboard!) :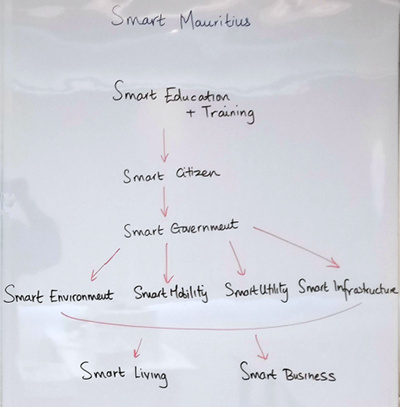 Ultimately, we want a smarter Mauritius. One of the things I have realised over the years is that hardware and software are not important. What is crucial for the development of a country is peopleware. Having smart citizens is the only way to obtain a smart country. And, of course, this starts with smart education (for young people) and smart training (for adults and professionals). This is, according to me, the biggest challenge the country is going to face in the coming years : how to transform 1.3 million Mauritians into smarter Mauritians.
Only then will we have a smart government (consisting of smart citizens) which will then make sure that we can all benefit from a smart environment, smart mobility, smart utilities and smart infrastructures.
It is in this context that we will then be able to engage into smart (and meaningful) living while businesses will also become smart.

On 24 August 2015, Sir Anerood Jugnauth, the then Prime Minister, introduced Vision 2030 to the population. The vision is that, by 2030 (which is just in 13 years), Mauritius will move from a higher middle-income country (which it is now) to a high-income country (like European countries, Singapore, etc.) while making sure that every Mauritian benefits (i.e. that the country becomes more inclusive). This is a very ambitious vision.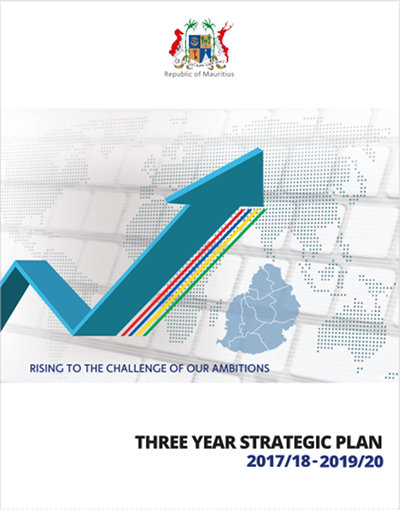 During the last budget speech, Pravind Jugnauth, the current Prime Minister introduced a very important document on how to move towards Vision 2030. This three year strategic plan (2017 – 2020) explains how Mauritius needs to either get into new sectors of activity (e.g. ocean economy, high-tech manufacturing) or develop further what we have been doing up to now (e.g. exporting our ICT products to Africa, entering new markets for our tourism industry, finding ways to have food security) in order to achieve our grander aims. In other words, we have to grow: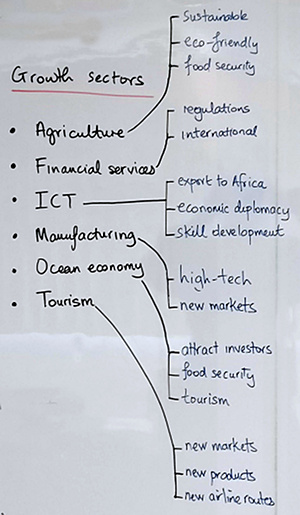 Our agriculture needs to become eco-friendly, sustainable and capable of providing the population with food security for some of our fruits and vegetables. Our financial services sector need to become stronger but in keeping with international rules & regulations. Our ICT sector, which has become the 3rd pillar of our economy, needs to address the major issue of skills development (as young people coming out of local government-funded universities generally lack, well, everything and this has been the case for a number of years now) and find ways to export to Africa (which means that, we, Mauritians will have to know more about our continent, Africa). Our factories will have to move towards high-tech manufacturing (which is more profitable) which means that we will have to train our workers in new technology and find new markets. As for the ocean economy, we will have to attract investors and make sure that we have plentiful fish in the islands while developing new eco-friendly entertainment activities in the sea. Finally, concerning tourism, we will have to expand to new markets by developing new products and exploiting new airline routes.
In order to achieve these objectives, the following enablers will need to become central in our strategy: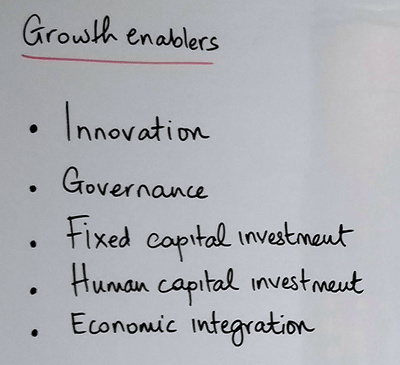 First and foremost, Innovation. We have to transform Mauritius into Innovative Mauritius (while at the same time focusing on good governance, investing in the development of fixed- and human-capital and making sure that everything is done in an inclusive manner).
This is easier said than done. In the strategic vision documents, the following important challenges have been identified for Mauritius: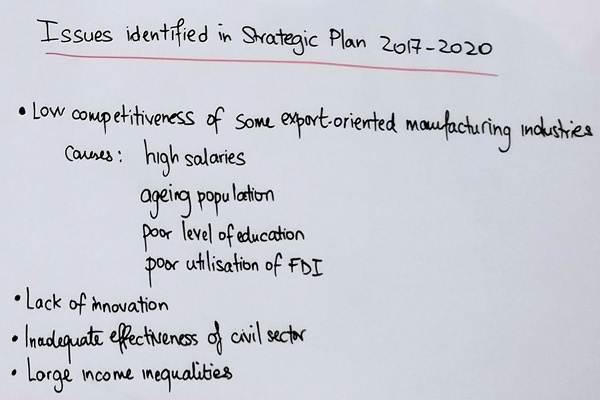 In a number of industries (ICT, manufacturing, financial services), over the years, we have reduced our competitiveness compared to other countries. This is a consequence of salaries being relatively high in Mauritius (compared to, say, India, China or Madagascar), the fact that the population is ageing (and, consequently, the proportion of young people is lower than expected), the fact that our education system fails to create a productive adult after 20 years of free education and that we generally poorly use investors' money.
It is clear that bureaucracy tends to decrease the effectiveness of the civil sector. This sector needs to become agile and responsive to the needs of the population. The public sector needs to become a service provider. It is also clear that the gap between the rich and the poor has been increasing a lot lately. This is true in all capitalist countries but we need to make sure that the ideals of socialism remain central in our minds while transforming the country.
But, crucially, Mauritius needs to become Innovative Mauritius.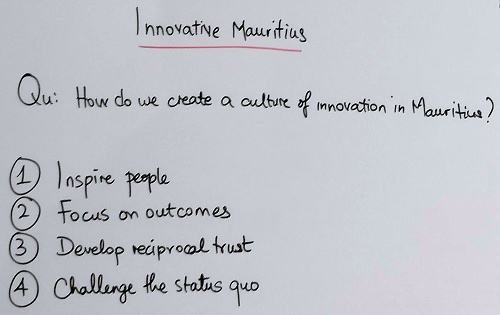 How can we create a culture of innovation in Mauritius? It all starts by inspiring people (and this is what Vision 2030 is supposed to be — a source of inspiration). Naturally, we will have to streamline the communication process as I am sure that most Mauritians are still unaware of this important vision. Then we need to always focus on outcomes instead of features. What we want is that the country becomes a high-income country (i.e. we want Mauritius to become a rich country) while making sure that everyone benefits (the development should be inclusive — this is important as history shows that, while it is relatively easy to have a rich country, it is much more difficult to make sure that this wealth is not concentrated in the hands of only a few). In order to achieve this level of development, we will have to work together (and this is something that we, Mauritians, have a lot of difficulties to do as we do not trust each other — remember, we generally loved hiding our notebooks from our "friends" when we were in CPE…). We need to trust each other in order to be able to work together. And, very importantly, if we need to challenge the status quo then so be it. It is only through disruptions that important changes happen. Of course, we will have to find ways not to penalise risk-takers compared to those who do not innovate and this is where trust, once again, is important.
So there is a very big challenge ahead of us to transform Mauritius into Innovative Mauritius. At the Ministry of Technology, Communication and Innovation, a lot of work has already started and important projects are being implemented by the Mauritius Research and Innovation Council which falls under the Ministry. But a major portion of the work still needs to be done and this starts by inspiring people (and, especially, young people).
Let's build Innovative Mauritius together.