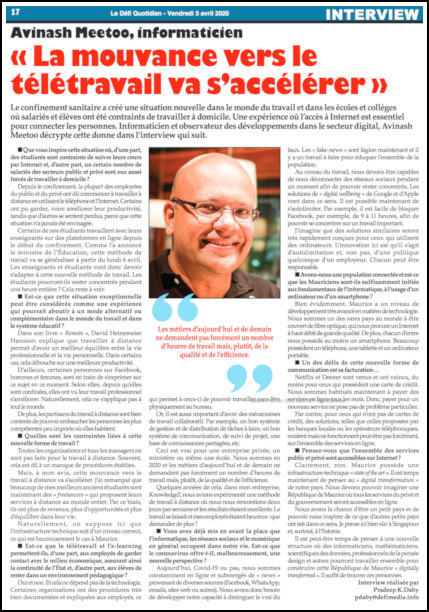 Le confinement sanitaire a crée une situation nouvelle dans le monde du travail et dans les écoles et collèges où salariés et élèves ont été contraints de travailler à domicile. Une expérience où l'accès à Internet est essentiel pour connecter les personnes. Informaticien et observateur des développements dans le secteur digital, Avinash Meetoo décrypte cette donne dans l'interview qui suit.
Cet interview a été publié dans l'édition du vendredi 3 avril 2020 du Défi Quotidien et a été réalisé par le journaliste Pradeep K. Daby.
(1) Que vous inspire cette situation où, d'une part, des étudiants sont contraints de suivre leurs cours par Internet et, d'autre part, un certain nombre de salariés des secteurs publics et privé sont forcés eux aussi de travailler à domicile ?
Tout d'abord, la République de Maurice est en train de vivre un moment difficile. Le coronavirus ainsi que la maladie du COVID-19 sont des choses qui, encore récemment, relevaient de la science fiction pour nous.
Depuis le confinement, la plupart des employées du public et du privé ont du commencer à travailler à distance en utilisant le téléphone et Internet. Certains ont pu garder, et, même, dans certains cas, améliorer leur productivité, tandis que d'autres ne savent pas quoi faire, parce que cette situation n'avait jamais été envisagée.
Certains de nos étudiants travaillent avec leurs enseignants sur des plateformes en ligne depuis le début du confinement. Comme l'a annoncé le Ministre de l'Éducation, cette méthode de travail va se généraliser à partir du lundi 6 avril. Par contre, il est clair que les enseignants et les étudiants vont devoir s'adapter, au plus vite, à cette nouvelle façon de faire. Les étudiants pourront-ils rester concentrés pendant une heure entière ? Nous verrons.
(2) Est-ce que cette situation exceptionnelle peut être considérée comme une expérience qui pourrait aboutir à un mode alternatif ou complémentaire dans le monde du travail et dans le système éducatif ?
Dans son livre « Remote », David Heinemeier Hansson explique que travailler à distance permet d'avoir un meilleur équilibre entre la vie professionnelle et la vie personnelle. Dans certains cas, cela débouche sur une meilleure productivité.
D'ailleurs, certaines personnes sur Facebook, hommes et femmes, sont en train de s'exprimer sur ce sujet en ce moment. D'après elles, depuis qu'elles sont confinées et doivent s'occuper de la maison, des enfants, de la cuisine et du nettoyage, elles ont vu leur travail professionnel s'améliorer parce qu'elles n'ont plus besoin de choisir. Naturellement, cela ne s'applique pas à tout le monde.
De plus, les partisans du travail à distance sont bien contents de pouvoir embaucher les personnes les plus compétentes peu importe où elles habitent.
(3) Quelles sont ses contraintes ?
Toutes les organisations et tous les managers ne sont pas faits pour le travail à distance. Souvent cela est du à un manque de procédures établies.
Mais, à mon avis, cette mouvance vers le travail à distance va s'accélérer. J'ai remarqué que, beaucoup de mes meilleurs anciens étudiants, sont maintenant des « freelancers » qui proposent leurs services à distance au monde entier. Par ce biais, ils ont plus de revenus, plus d'opportunités et plus d'équilibre dans leur vie.
Naturellement, on suppose ici que l'infrastructure technique soit d'un niveau correct, qui est heureusement le cas à Maurice.
(4) Est-ce que le travail à domicile et l'e-learning permettent-ils, d'une part de garder le contact avec le milieu économique, assurant aussi la continuité de l'État et, d'autre part, permettre aux élèves de rester dans un environnement pédagogique ?
Oui et non. Et cela ne dépend pas de la technologie. Certaines organisations ont des procédures très bien documentées et expliquées aux employés qui permettent à ceux-ci de pouvoir travailler sans être physiquement au bureau.
Il est important aussi d'avoir des mécanismes de travail collaboratif. Par exemple, un bon système de gestion et de distribution de tâches à faire, un bon système de communication y compris vidéo, un bon système de suivi de projet, une base de connaissance partagée, etc.
Ceci est vrai dans une entreprise privée, dans un ministère ou même à l'école. Nous sommes en 2020 et les métiers d'aujourd'hui et de demain ne demandent pas forcement un nombre d'heures de travail mais, plutôt, de la qualité et de l'efficience.
Quelques années de cela, dans mon entreprise, Knowledge7, nous avions expérimenté avec une méthode de travail à distance où nous nous rencontrions deux jours par semaine et les résultats étaient excellents. Le travail se faisait et mes employés étaient heureux : que demander de plus ?
(5) Vous avez déjà mis de l'avant la place que l'informatique, les réseaux sociaux et le numérique en général occuperont dans notre vie. Est-ce que le coronavirus offre-t-il, malheureusement, une nouvelle idée de cette perspective ?
Aujourd'hui, COVID-19 ou pas, nous sommes constamment en ligne et submergés de « news » provenant de diverses sources (Facebook, WhatsApp, emails, sites web ou autres). Nous avons donc le besoin de développer la capacité de faire la différence entre le vrai du faux. Les « fake news » sont légion maintenant et il y a un travail à faire pour éduquer l'ensemble de la population.
Au niveau du travail, nous devons être capables de nous déconnecter des réseaux sociaux pendant un moment afin de pouvoir rester concentrés. Les solutions de « digital wellbeing » de Google et de Apple vont dans ce sens. Il est possible maintenant de s'auto-limiter. Par exemple, il est facile de bloquer Facebook, par exemple, de 9:00 à 11:00, afin de pouvoir se concentrer sur un travail important.
J'imagine que des solutions similaires seront très rapidement conçues pour ceux qui utilisent des ordinateurs. L'innovation ici est qu'il s'agit d'auto-limitation et, non pas, d'une politique quelconque d'un employeur. Chacun peut être responsable.
(6) Avons-nous une population connectée, et est-ce que les Mauriciennes/Mauriciennes sont-elles (ils) suffisamment initié(e)s aux fondamentaux de l'informatique, à l'usage d'un ordinateur ou d'un smartphone ?
Bien évidemment. Maurice a un niveau de développement très avancé en matière de technologie. Nous sommes un des rares pays au monde à être couvert de fibre optique, qui nous procure un Internet à haut débit de grande qualité. De plus, chacun d'entre nous possède au moins un smartphone. Il n'est pas rare d'avoir quelqu'un qui possède un téléphone, une tablette et un ordinateur portable.
(7) Un des défis de cette nouvelle forme de communication est sa facturation…
Netflix et Deezer sont venus et ont vaincu, du moins pour ceux et celles qui possèdent une carte de crédit. Nous sommes habitués maintenant à payer des services en ligne tous les mois. Donc, payer pour un nouveau service ne pose pas de problème particulier.
Par contre, pour ceux qui n'ont pas de cartes de crédit, des solutions, telles que celles proposées par les banques locales ou les opérateurs téléphoniques, fonctionnent mais, peut-être pas forcément, pour l'ensemble des services en ligne.
(8) Pensez-vous que l'ensemble des services public et privé sont accessibles sur Internet ?
Clairement, non. Maurice possède une infrastructure technique « state of the art ». Il est temps maintenant de penser au « digital transformation » de notre pays. Nous devons pouvoir imaginer une République de Maurice où tous les services du privé et du gouvernement seront accessibles en ligne.
Nous avons la chance d'être un petit pays et nous avons aussi la chance de pouvoir nous inspirer de ce que d'autres petits pays ont fait dans ce sens. Je pense ici bien sûr à Singapour et, surtout, l'Estonie.
Il est peut-être temps de penser à une nouvelle structure où des informaticiens, des mathématiciens, des scientifiques des données, des professionnels de la pensée design et autres professionnels pourront travailler ensemble à construire cette République de Maurice « digitally transformed ». Il suffit tout simplement de trouver ces personnes.