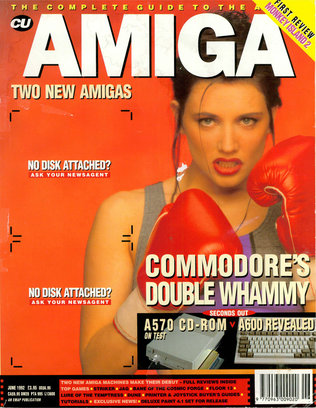 Commodore was a big company in 1992, the Amiga was selling like hot cakes and there were a lot of magazines devoted to this wonderful machine (including CU Amiga pictured above with one of my favourite covers ever — don't ask why).
At that time, there was no Internet in Mauritius but there were (real) libraries where I could borrow (real) books on computer programming and software design. The best was the British Council library which, unfortunately, does not exist anymore as a library.
Being 19 in 1992, I obviously played games on my Amiga computer but I was not a big gamer: I got bored only after half an hour.
What I like doing was geeky stuff. Things like using utility software to tinker with the hardware and the data on disk. I loved writing programs, first in BASIC then C and Assembly. I actually did quite a lot of Assembly programming on the Amiga and I loved the Motorola 68000 processor it had.
So much so that when I finally got to university in 1993, I was already a very good programmer and I knew hardware pretty well. I actually found university, at least the computer science part, quite straightforward and satisfying.
Studying in 2015
I have noticed something lately. Most students are not very good in computer programming when they start university. Of course, a good proportion manage to grasp it rather quickly (some, not so quickly…) and succeed very well.
But my point is that it has been a long time since I started a first year university class and one student tells me: "Mr Meetoo, I look forward doing advanced stuff with you because, well, I already know the basics and, ahem, quite a lot of the more esoteric, yet interesting, aspects."
I hope to hear that next week when I start a new class with 1st year SupInfo students.