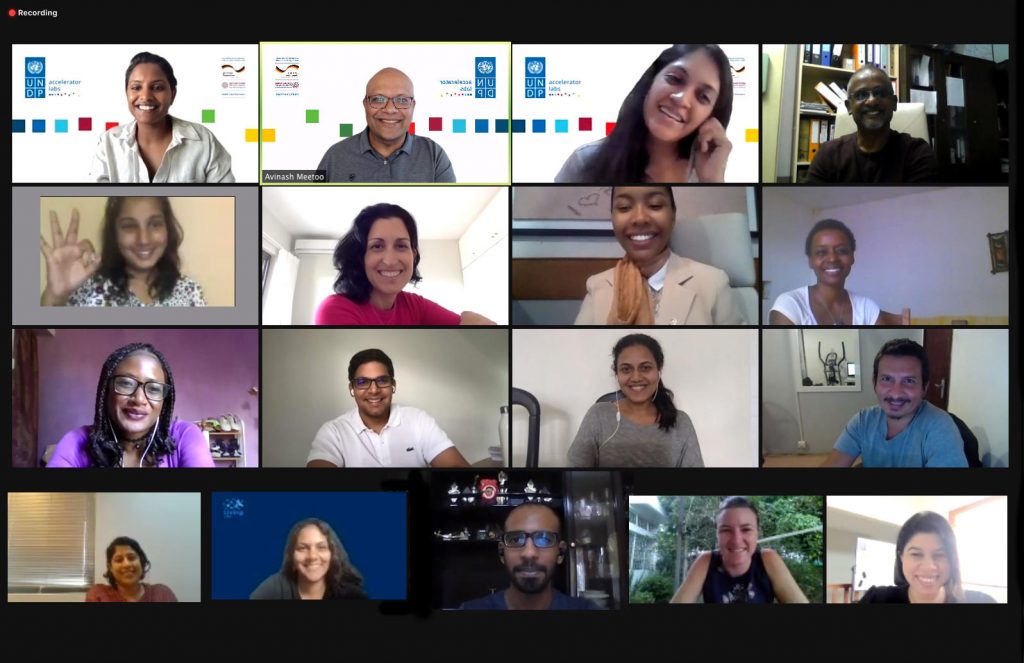 A big thank you to all those who participated in our first Collective Intelligence Exercise
Since its launch in April 2021, the UNDP Mauritius and Seychelles Accelerator Lab has engaged with several stakeholders in the tourism sector, at various levels, to understand how local Micro, Small and Medium Enterprises (MSMEs) have been impacted by the pandemic. As Mauritius is set to open its borders on 15 July, the level of optimism in the tourism sector is increasing but the re-opening also comes with a set of challenges, particularly for local MSMEs which will have to adapt quickly.
Getting Smarter Together
One interesting tool in our toolkit is Collective Intelligence. This is not a new concept. In fact, it has existed for centuries. Societies have relied on collective intelligence to share knowledge and practices to find solutions to complex issues.
Consequently, to better grasp the challenges which MSMEs will face following the re-opening of the borders, the UNDP Mauritius and Seychelles Accelerator Lab embarked on a Collective Intelligence exercise with over 15 representatives from the private (including MSMEs), public, academic, civil society, and innovation spheres. The advent of the "digital age" and not forgetting, the collapse of "face-to-face" interactions due to COVID-19 related restrictions, means that the exercise was done online.
We would like to thank the group of 15 participants for their contributions and their eagerness to collaborate to ensure that the re-opening benefits all:
Asif Jeetun, Economics Analyst, Business Mauritius
Bernard Cayeux, Founder, Book Mauritius Villas
Daden Venkatasawmy, Head, Collaborative Economic Development, Business Mauritius
Daveena Aubeeluck-Bauluck, Co-Director / Administrative Secretary, Scuba World Mauritius
Diya Nababsing-Jetshan, Head of Technology & Digital Transformation, IBL Group
Issana Agathe, Manager, Rodrigues Tourism Office
Jean-Yan Norbert, Communication Assistant at UNDP Mauritius and Seychelles
Leevana Kistnen, Representative from SME Mauritius
Marie Paule Pierre Louis Rango, Éco Ballade (Rodrigues)
Marie Stephania Perrine, Founding Curator, Global Shapers Rodrigues
Matthieu Appassamy, Managing Director, Holiday Lettings
Nassima Sadar, Strategy & Partnerships, Living Labs Foundation & Co-Founder of Mo Angels
Natacha Emilien, Co-Founder & Managing Director, Red Dot
Rajendra Payen, Administration & Operations Director, Blue Acqua World, Trou D'eau Douce
Sandrine Sumodhee, Strategic Project Manager & Business Development, Albion Encounters by AIC International Ltd
Sharma Seechurn, Research and Development Coordinator, Human Resource Development Council
Sharon Sunassee, Communication Assistant at UNDP Mauritius and Seychelles
Sophie Montocchio, Independent Consultant and Founder of Parapli Rouz
Stéphane Bellerose, Communications Specialist, UNDP Mauritius and Seychelles
Growing optimism amid challenges
Before kicking off, we asked all the participants to let us know their level of optimism for the re-opening of Mauritian borders and the potential for a recovery in the tourism sector. Most participants expressed slight optimism, which was a good note to start our discussion. Many recognized that the challenge is not over and that the sector will need to re-invent itself to sustain further shocks.
Participants were divided into three groups which were each facilitated by a member of the Accelerator Lab team. These smaller group discussions revolved around four main questions and the Accelerator Lab used Mural to capture live insights.
After the breakout sessions, all participants came back to the plenary session and, in the end, several important policies to potentially help MSMEs navigate these difficult times were identified.
We learned a lot more from this exercise and we will continue to share insights and outcomes in a series of upcoming blogs to amplify diverse voices and experiences. Stay tuned!