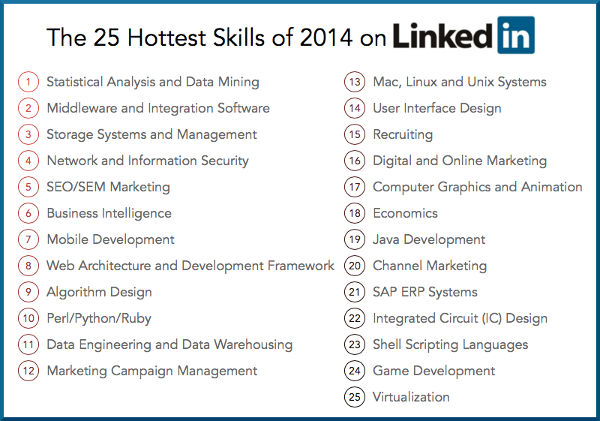 In December 2014, LinkedIn analyzed the skills and experience data in over 330 million LinkedIn member profiles to answer the question "Who's getting hired and what are they doing?". The above image shows the 25 Hottest Skills of 2014. Maybe a better way of looking at things would be to put these jobs in different categories to try to answer "Who's getting hired and what field they are getting in?":
Information Technology – Data Science
Statistical Analysis and Data Mining
Business Intelligence
Data Engineering and Data Warehousing
SAP ERP Systems
Information Technology – Infrastructure
Middleware and Integration Software
Storage Systems and Management
Network and Information Security
Mac, Linux and Unix Systems
Virtualization
Shell Scripting Languages
Information Technology – Software Development
Mobile Development
Web Architecture and Development Framework
Algorithm Design
Perl/Python/Ruby
Java Development
Information Technology – User Experience
User Interface Design
Computer Graphics and Animation
Game Development
Digital Marketing
SEO/SEM Marketing
Marketing Campaign Management
Digital and Online Marketing
Channel Marketing
Other
Recruiting
Economics
Integrated Circuit (IC) Design

It is clear that Information Technology rules supreme. 72% of the jobs are IT jobs in data science, infrastructure, software development and user experience. We can even argue that all the digital marketing jobs as well as IC design are in IT increasing the proportion to 92%.
This also means that schools and universities will have to adapt to provide classes in these high-demand fields for the sake of the young people currently studying but also for the enterprises in Mauritius as well as the country as a whole.
Let's hope they do. Signs are not very encouraging though with, for example, the University of Mauritius being still stuck in the 20th century. What do you think?